Unfortunately, it happens quite often to people who register on the dating sites of Russian women hoping to find the love of their life to be victims of dating scams. There is no secret that by establishing trusting relationships with their victims, these people are trying to do their best in order to extract some money. Just imagine that your beautiful Slavic girl on the other side of the screen who looks so nice and attractive to you, is actually a man who has uploaded a nice photo of a Russian woman and writes adorable letters. Exciting, isn't it?
I. What is a Romance Scam?
Romance scams are an increasingly common type of fraud that specifically targets people looking for love and companionship online. A romance scammer is someone who creates fake identities or entire fictitious stories in order to gain the trust of their victims and steal their money or personal information. The scammer will often use popular social mediums such as dating apps, websites and chatrooms to target their victims and build a false relationship, typically leading to an emotional investment from the victim.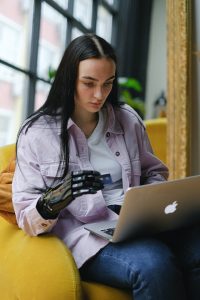 Without any doubt, if you want to avoid the possibility of being cheated it is necessary to register only on the dating sites of the Russian women which are sure and can guarantee you the quality of their services. Fortunately, the team of our free dating site in Canada has managed to gather for you some important signs and a piece of advice that will allow you to recognize a scammer on the dating sites of Russian women.
II. Recognizing the Signs of a Romance Scammer
It's important to be wary of anyone who attempts to establish a romantic relationship online without meeting in person. If someone you are talking to online starts to mention money or personal information, this is an immediate red flag that should raise suspicion. Additionally, certain warning signs should be taken seriously, including if someone becomes excessively romantic too quickly and pressures you into sending money or sharing financial information.
Other signs of a potential scammer include refusing to video chat with you or providing information about themselves, asking for personal details such as your social security number or bank account numbers, mentioning a story which involves the need for money urgently, claiming they are in the military and unable to meet you in person, and trying to move the conversation away from the dating app or website onto another medium.
III. Steps to Take if You Become Victimized By A Romance Scammer
If you think that you have become a victim of a romance scam, there are several steps you can take to protect yourself:
Document evidence. Save any emails or text messages from the scammer for evidence purposes. This will help show police and financial advisors that an attempted scam has occurred.
Contact your bank or credit card company. Alert your financial institution immediately of any unauthorized charges you may have noticed on your accounts, and request new account numbers to prevent further fraudulent activity.
Report the incident. Contact local law enforcement and file an official complaint with The Federal Trade Commission (FTC). This can help victims obtain justice and help law enforcement build a case against the scammer.
IV. Conclusion
So be always vigilant and pay attention to all the messages you receive from your Slavic girl you met on free dating sites, always trying to get more and more details about herself and her life. Don't believe in too fast love letters and try to talk with the Russian or Ukrainian woman on Skype with the help of video in order to be 100% sure that her beautiful image is absolutely true! To get some more information, you can also visit our website antiarnaques.org where you will find other useful tips that will help you to verify the identity of a Slavic girl who decides to register on dating sites of Russian or Ukrainian women.